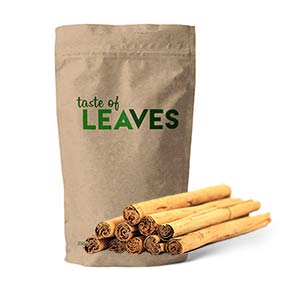 Who doesn't love to eat cinnamon bread rolls for breakfast? Bet, there is no one since it adds both flavor and savor to any meal you take! Just in case, which cinnamon sticks you prefer to use in the food that you made? Is it Ceylon cinnamon sticks or Cassia, or don't you have any idea on whatever Cinnamon sticks you use?
If so, this article will turn out interesting for you because you will distinguish the Ceylon cinnamon sticks by the end of reading this, which are believed to be the best Cinnamon out of all the cinnamon varieties available in the world market of the spices.
Are you in a hurry and don't have enough time reading article? Then you can just order Real Ceylon Cinnamon from Taste Of Leaves By clicking here or the below banner. Your order will be directly delivered from Sri Lanka.
Otherwise, You are welcome to continue reading.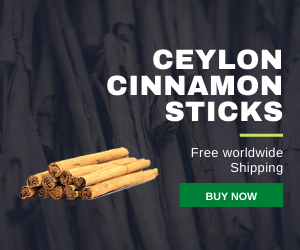 Why Ceylon Cinnamon sticks?
"Ceylon Cinnamon is inherently superior to Cassia Cinnamon. Certainly, Ceylon Cinnamon boasts a long and colourful history. But, truth be told, Ceylon Cinnamon is much less commonly found than Cassia Cinnamon in the context of the global market. It's beyond dispute, however, that there are discernible differences between the two."
-Sri Lanka Export Development Board-
Being recognized as "Ceylon" for decades, Sri Lanka provides land for many spices, including cinnamon sticks. "True Cinnamon" or Ceylon Cinnamon is acquired from the bark of the native cinnamon trees grown in Sri Lanka, which are abundantly seen everywhere within the country.
Hence, Ceylon Cinnamon's reason to be referred to as "True cinnamon" might be because 90% of the world's cinnamon demands are supplied from the cinnamon exports of Sri Lanka.
Speaking more about Ceylon cinnamon sticks, they are considered the most demanded imported trades since ancient times. Ceylon cinnamon sticks are also reviewed as the best Cinnamon in the world out of all the wide range of cinnamon imports.
The uniqueness of Ceylon Cinnamon Sticks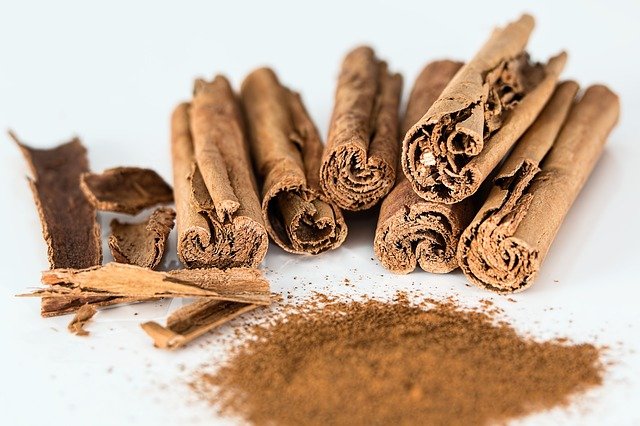 Primarily it is due to the distinctive method of curing the Cinnamon that Sri Lanka uses. The uniqueness of making cinnamon sticks helps to enhance the Cinnamon's alluring aroma and increase the savor of the Cinnamon in foods unlike any other cinnamon varieties like cassia cinnamon.
"Ceylon Cinnamon is delicate, sweet with nuanced notes of clove and makes an excellent flavor profile for pastries, cakes, and desserts whereas Cassia Cinnamon is pungent and suited for braised Chinese meat recipes. "
-Sri Lanka Export Development Board-
It is identified that the cinnamons' taste is shaped by the chemical components that the cinnamon plant carries.
When it comes to the Ceylon cinnamon, they take over 80 essential chemical compounds, including cinnamaldehyde that cannot be seen or seen mightily in Cassia, making the Ceylon cinnamon the best Cinnamon and broadening the global market for "True cinnamon."
"This finest quality cinnamon is of thin smooth bark, with a golden brown colour, highly fragrant odour, sweet, warm and a pleasing aromatic taste."
-How to identify CEYLON CINNAMON and why Cinnamon should be consumed instead of Cassia by Pro. Jayasiri Lankage-
Texture
The color of the Ceylon cinnamon mostly takes tan or a light brown. The texture of the Ceylon cinnamon trees is tight. Therefore, Ceylon cinnamon can produce soft, layered, compressed Ceylon cinnamon sticks, which have gained a high reputation worldwide due to its rich flavor and savor.
Ceylon cinnamon vs cassia cinnamon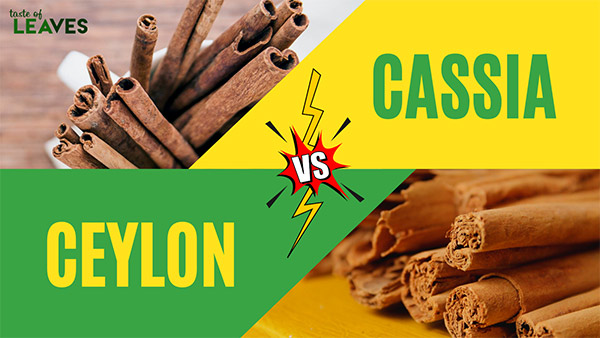 "Cinnamon and Cassia share certain characteristics such as antimicrobial, inhibiting growth of fungi, yeast and regulating blood sugar. This contents differ much in terms of the amount of the coumarin, a substance which has strong blood-thinning properties."
-How to identify CEYLON CINNAMON and why Cinnamon should be consumed instead of Cassia by Pro. Jayasiri Lankage-
Coumarin found in cinnamon plants can sometimes be harmful. Even though coumarin is found in both cinnamon plants, such as in Ceylon Cinnamon and Cassia, the former carries a low amount of coumarin compared with Cassia varieties.
Thus, many people believe Ceylon cinnamon is the best among the two of Ceylon cinnamon and Cassia cinnamon.
However, if you seek cassia cinnamon, you will be able to purchase it for a low price. Yet, "True Cinnamon" or Ceylon cinnamon is expensive compared to Cassia cinnamon. This makes it very difficult to find Ceylon cinnamon in the global cinnamon market cured in its original country.

How to identify

Previously we mentioned that the cinnamons' color has a significant impact on the flavor and the savor. So, when observing the Cassia cinnamon color, you will find that they are in reddish dark brown while the color of the Ceylon cinnamon is tan and golden brown.
Cassia and Ceylon cinnamon can be easily distinguished if you closely examine the cinnamon sticks' color.
Ceylon cinnamon leaves, on the other hand, are very fragile which can be broken easily. Thus, if you encounter a cinnamon leave that is hard to break or grind, that should belong to the Cassia cinnamon category.
In Ceylon cinnamon trees, one can form multiple layers of Ceylon cinnamon, which will roll up like coils due to the lightweight nature of the bark that the tree possesses. Unlikely, the thickness of the bark of the Cassia cinnamon will form only one single layer or a few layers when it is rolled.
There is a distinctive difference in smell in both Ceylon and Cassia cinnamon. The Ceylon cinnamon gives the best cinnamon taste and aroma. Cassia cinnamon preferably has a powerful and robust flavor, which will go with Chinese food dishes.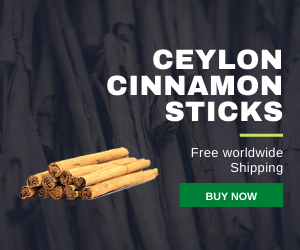 What benefits can you get from Cinnamon?
"Cinnamon is the most important and valuable spice produced in Sri Lanka. Before the advent of modern food preservation technology Europeans have used Cinnamon with Pepper to preserve meat products.

Cinnamon is used in bakery products, Asian foods and flavoured tea for its distinctive aroma & flavour. With growing concern on health hazards associated with synthetic flavouring agents used in the food industry there is an increasing preference for natural flavours worldwide."
-Sri Lanka Export Development Board-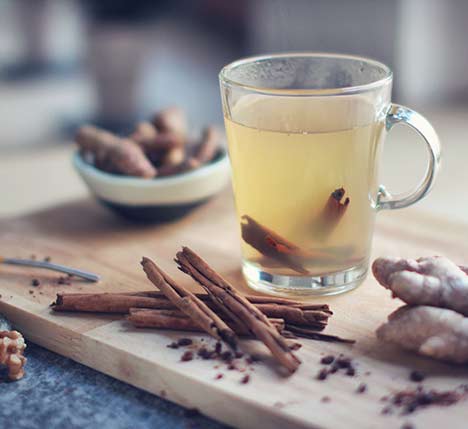 Cinnamon is an indispensable spice in almost all households. It gives a unique savoring aroma and will enhance the deliciousness of any meat that you cook. Do not be alarmed that your meat dish will smell and taste like cinnamon spices, and it will create a flavor that will make the eaters wondering what ingredients you used for the food dish.
Cinnamon sticks also can be used as a stirring stick for your hot drinks like tea and coffee. Once cinnamon sticks get infused into your glasses, it will give out an authentic savor.
Besides, cinnamon sticks are a natural food preservative that anyone can use in their households, making them more worthy.
"Ceylon Cinnamon has been introduced to the international market as a branded product namely "Pure Ceylon Cinnamon," which reflects a combination of several intrinsic characteristics discussed earlier.

EDB has completed the registration of 'Pure Ceylon Cinnamon' trademark in Europe and USA and obtained the certificates of registration from both countries."
-Sri Lanka Export Development Board-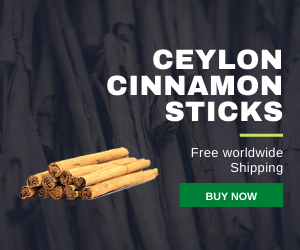 Final Verdicts
There are varieties of cinnamon selling in the global markets of spices. However, if you want to buy "True cinnamon" or "Ceylon Cinnamon sticks, Sri Lanka will be the most secure place as it is the host land that has gained fame for selling the best Cinnamon all over the years.
That's why we offer the best cinnamon for your convenience on our online store. You can click here if you wish to purchase online and get it delivered directly from Sri Lanka (Ceylon) to your doorstep with free shipping.
Since Sri Lankans do not maintain many retail stores abroad, Ceylon Cinnamon sticks are difficult to find, but it is all worth it!
So, if you can locate a Sri Lankan shop that imports spices from the country, you will find the best Cinnamon or Ceylon cinnamon sticks available there!